Remote Boom Control System
View Remote Boom Control Pricing
The Remote Boom Control is now available in two different models:

ST8 - 8 channel, 8 button remote to control up to 8 boom sections.
ST12 - 12 channel, 12 button remote to control up to 12 boom sections.
ST16 - 16 channel, 16 button remote to control up to 16 boom sections.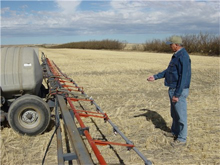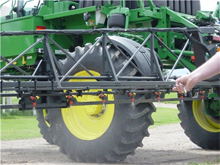 The Remote Boom Control is a useful tool for troubleshooting problems on sprayers. It is a tool for checking your nozzles. It also allows the sprayer operator the ability to service the sprayer with more safety, efficiency and environmental consciousness. The sprayer isn't spraying when the operator gets out of the cab allowing for safer checking. The operator won't be in as much of a hurry because they aren't wasting money. They also won't have to worry about getting sprayed by the drift coming off the sprayer. In one trip around the back of the sprayer, the operator can check and service it and check again. A handheld remote turns on individual booms one at a time.
Each Remote Boom Control comes complete with all the harnesses required to fit a particular sprayer. The harnesses provided plug directly into existing harnesses on the sprayer to make installation quick and easy (approx. 15-30 minutes).
Models of Sprayers that a SPRAYTEST will work on.
Apache
Bestway
Brandt
Case
Demco
Fast
Flexicoil
Gregson
Hagie
John Deere
Miller
New Holland
Rogator
Schaben
Spray-Air
Spra-Coupe
Top Air
Wilmar
We can make a harness to fit your sprayer if it is not listed here.
Other Applications
We're always thinking of new applications to control wirelessly. Check back periodically to see our new products.
If you have an application that you would like to use wireless controls for, get in touch with us and we would be happy to assist you